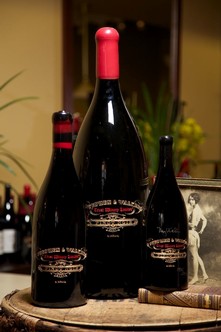 2010 Pinot Noir Sonoma Coast 750 ml
2010 Pinot Noir Sonoma Coast 750ml
This wine is lovely! It is our second release from our grower, Art Ibleto - the Pasta King! We love the quality that this vineyard produces - very fruity, bright cherry-candy! The region is cooler than MOST of inland Sonoma County, and slows down the maturation of the Pinot Noir into October, even when most Russian River Pinots are picked in September. This additional hang time on the vine developes very refined tannins, flavors, aromas and mouthfeel and creates a pinot that will last for many years. The Pinot Noirs that come from the Sonoma Coast are power houses and this wine will show you why! Rich, dense, bright and fruity!
Only 250 cases produced.

Wine Specs
Aging
9 months in 40% new French Oak Barrels
Fermentation
14 days; 5 days cold soak
Wine Profile
Tasting Notes
Rich, dense, bright and fruity, cherry candy, dried herbs, forest floor, violets, soft bright tannins.
---
Product Reviews
---
Gold Medals 100912
2010 Chardonnay – Late Harvest Botrytis – Mendocino Ridge
1. Double Gold/Best of Class West Coast '12
2. Double Gold – SF Int'l Wine Comp '12
3. Gold - San Diego Wine Comp '12
4. Gold – US National Wine Comp '12
5. Gold – San Diego Wine Comp '11
6. Gold – Grand Harvest Awards '11
2009 Patrona – Muscat Canelli – Alexander Valley
1. BEST of CLASS – Sonoma. Co. Harvest Fair '12
2. Gold – Riverside Wine Com '12
3. Gold – Orange Co Fair Comp '12
4. Gold – US National Wine Comp '12
5. 91 pts The Wine Enthusiast May 2011
2010 Pinot Noir – Sonoma Coast
1. Gold – San Diego Comp '12
2007 Pinot Noir – Monterey
1. Gold – Grand Harvest Award 2011
2011 Zinfandel – Dry Creek Valley
1. Gold – Sonoma Co. Harvest Fair 2012
2010 Petite Sirah – Dry Creek Valley
1. Gold – Riverside Wine Comp '12
2. Gold – US National 2012
3. Gold – Orange Co. Fair Comp '12
2006 Cabernet Sauvignon – Howell Mountain
1. Double Gold– San Diego '12
2. Best of Class – Pacific Rim '11
3. Gold – Chairman's Award – Orange Co.'11
4. Gold - Best of Class - Pacific Rim '10
5. Gold - Best of Class - New World '09
6. Gold – Dallas Morning News '10
7. Gold – Pacific Rim '08
8. Gold – San Diego '08
9. Gold – West Coast Wine '08
10. Double Gold & Best of Class – San Francisco Wine Comp 2011
11. Gold– San Diego '12
12. Gold– New World Wine '12
13. Gold– San Francisco Chronicle '12
14. Gold – 94 points The Wine Enthusiast, May 2011
15. Gold – San Diego '11
16. Gold – SF International Wine '11
2009 Cabernet Sauvignon Howell Mountain
1. Gold– San Diego '12
2004 Portentous – California
1. Best of Class of California – California State Fair Wine Comp 2011
2. Chairman's Award – Gold – Riverside Wine Comp 2011
3. Double Gold & Best of Class – LA Wine Competition 2010
4. Double Gold & Best of Class - New World Wine Competition 2010
5. GOLD – San Diego Wine Competition 2012
6. Gold – Riverside international Wine Comp 2012
7. Gold – US National Wine Competition 2012
8. Gold – SF International Wine Comp 2011
9. Gold – SF Chronicle Wine Comp 2011
10. Gold – Orange County Fair Wine Comp 2010
11. Gold - SF International Wine Competition 2010

---