'12 Petite Sirah - Dry Creek
Dry Creek Valley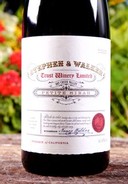 Wine Specs
Appellation
Dry Creek Valley
Aging
15 months in 75% new French Oak
Fermentation
7 days in Open topped tanks hand punched down
Tannin
Medium and present.
Grapes are hand picked into small tubs and delivered to the winery just a few miles down the road. We crush these grapes into small, open topped tanks and cold soak the grapes for about 5 days this cold soaking allows us to extract the color and fresh blackberry fruit flavors and aromas - then we add our yeast and the fermentation takes off. Fermentation lasts only about 7 days and then we press off the skins and put the wine directly into small, French Oak barrels with about 75% new oak and let the wine rest for 15 months before we bottle.
Enjoy this wine, it is showing well and will continue to improve for the next 5-10 years.
Gold 2014 Pacific Rim
Bronze 2014 California State Fair
Bronze 2014 Orange County Fair
Bronze 2014 Los Angeles Int'l. Fair
Bronze 2014 International Women's Wine
Bronze 2014 San Francisco Int'l Wine
Bronze 2014 Farmer's Fair Riverside
Wine Specs
Appellation
Dry Creek Valley
Aging
15 months in 75% new French Oak
Fermentation
7 days in Open topped tanks hand punched down
Tannin
Medium and present.