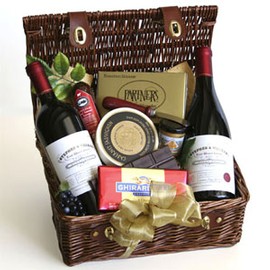 Wine Picnic Getaway Basket with Zinfandel and Pinot Noir
Celebrate any occasion with this fabulous picnic basket with delicious treats. Includes one bottle each of our Zinfandel Dry Creek Valley and Pinot Noir Monterey along with delicious salami, cheese, crackers, a cheese spreader, Napa Valley mustard and Ghirardelli chocolate.
Please see our Wine Picnic Getaway Basket with other wine choices:
Cabernet Sauvignon Howell Mountain Napa Valley and Pinot Noir Monterey
Pinot Noir Monterey and Portentous Mendocino
Please note that the gift baskets are shipped directly from our gift basket supplier in Northern California to ensure freshness and cannot be shipped with additional wines. Please place separate orders for any wine you want in addition to what is already in the gift basket.
Gift basket orders placed by 3pm PST, Monday-Friday(excluding holidays) will ship the next business day. Orders placed after 3pm PST Monday-Friday or holidays, will ship in two business days.Orders placed on the weekends, will ship Tuesdays.

Contact us at info@trustwine.com if you are interested in shipping this gift to multiple recipients. We can assist you with uploading larger orders.
---
Product Reviews
---
Stephen & Walker PRESENTS
AWARDS & ACCOLADES 2014
2012 Chardonnay –
Late Harvest Botrytis –
Mendocino Ridge
Best of Show- Grand Harvest Awards '13
Best of Class - Grand Harvest Awards '13
Best of Class - Sunset Magazine '14
Best of Class - Press Democrat '13
Double GOLD - Jerry Meade's New World '14
Double GOLD - Grand Harvest Awards '13
GOLD San Francisco Chronicle Wine '14
GOLD San Diego '14
GOLD Pacific Rim '14
GOLD Orange County '14
GOLD Sunset Magazine '14
GOLD Press Democrat '14

2011 Chardonnay –
Late Harvest Botrytis –
Russian River Valley
GOLD San Diego '14
GOLD Dallas Texsom '14

2012 Patrona –
Muscat Canelli –
Alexander Valley
GOLD Grand Harvest Awards '13

2012 Sauvignon blanc –
Green Valley
Russian River Valley
GOLD San Diego '13
2009 Pinot Noir –
Sonoma Coast –
Green Valley
Gold – San Diego Wine 2012
Gold – Orange County Fair Wine 2011

2010 Pinot Noir –
Sonoma Coast –
Green Valley
DOUBLE Gold – Pacific Rim Wine n 2013
Gold - Best of Class – Pacific Rim Wine 2013
Gold – San Diego Wine 2012
2011 Petite Sirah – Dry Creek Valley
Gold – San Diego '14
Gold – Int'l. Women's Wine '13
Gold - Best of Class – Int'l. women's Wine '13
2012 Petite Sirah – Dry Creek Valley
GOLD – Pacific Rim 14
Bronze - California State Fair 14
Bronze – Orange County 14
Bronze – Los Angele Int'l 14
Bronze – Int'l. Women's Wine 14
Bronze – San Francisco Int'l. 14
Bronze – Farmer's Fair of Riverside 14

2011 Zinfandel – Dry Creek Valley
Best of Class– California State Fair '14
Best of Region– California State Fair '14
Best of -San Francisco Chronicle '14
Best of Class - Pacific Rim 2013
Double GOLD- Pacific Rim 2013
Double Gold-San Francisco Chronicle '14
GOLD - Sonoma Co Harvest Fair Wine Competition 2012
Gold-San Francisco Chronicle '14
Gold- Pacific Rim 2013
Gold – California State Fair '14
Gold – San Diego '14
Gold – Pacific Rim '14
Gold – Orange County '14
Gold – Los Angeles Int'l.
Gold – Jerry Mead New World Wine '14

2011 Zinfandel – Russian River Valley
Best of Class– Pacific Rim '14
Gold - Pacific Rim '14
Gold - Int'l. Women's Wine '14
Gold – Jerry Mead Wine '14

2012 Zinfandel – Dry Creek Valley
Best of Class– California State Fair '14
Best of Region– California State Fair '14
Gold – California State Fair '14
Gold – Los Angeles Int'l. '14
Gold – SF. Int'l. Wine '14
Silver – Sunset Magazin '14
Silver – Int'l Women's Wine '14
Silver – Farmer's Fair of Riverside '14
2012 Zinfandel – Russian River Valley
Gold – Sunset Magazine '14
Silver – California State Fair '14
Silver – Los Angeles Int'l. '14
Silver – Farmer's Fair of Riverside '14
Bronze – SF Int'l. Wine '14
2008 Cabernet Sauvignon Howell Mountain
Double Gold & Best of Class – San Francisco Wine Comp 2011
Gold– San Diego Wine Competition 2012
Gold– Jerry Meads New World Wine Competition 2012
Gold– San Francisco Chronicle Wine Competition 2012
Gold – 94 points The Wine Enthusiast Magazine, May 2011
Gold – San Diego Wine Competition 2011
Gold – SF International Wine Competition 2011
2009 Cabernet Sauvignon Howell Mountain
Gold– San Diego Wine Competition 2012
2010 Cabernet Sauvignon Howell Mountain
Gold – San Diego '14
Gold – Pacific Rim '14
Gold – Los Angele International '14
Cellar Selection, 89Points – Wine Enthusiast magazine OCT 2013

2011 Cabernet Sauvignon Howell Mountain
Silver – Orange County '04
Silver – Los Angele International '14
Bronze – Sunset Magazine '14
Bronze – California State Fair '14
Bronze – Int'l. Women's Wine '14
Bronze – San Francisco Int'l Wine '14
2010 Portentous – Dry Creek Valley Petite Sirah
Best of Class –California State Fair '14
Best of Region – California State Fair '14
Gold – SF International Wine Comp 2014
Gold – Orange County Fair Wine Comp 2013
Gold - Best of the North Coast Press Democrat Competition 2013
Gold – San Diego '14
Gold – Pacific Rim '14
Gold – California State Fair '14
Gold – Orange County Fair '14
Gold – Los Angeles Int'l. '14
Gold – Jerry Mead New World '14
Gold - SF Chronicle Cloverdale Citrus Fair '14

---