November 11, 2015 |
Nancy Walker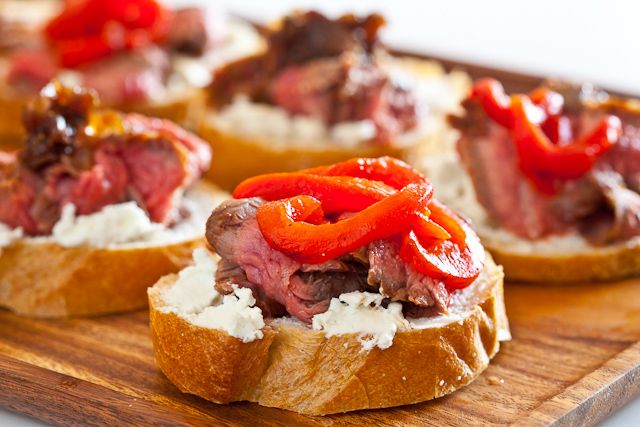 1. Marinade Tri-tip overnight with dry rub of your favorite garlic, salt, pepper and herbs.
2. Using outdoor BBQ at low to medium heat (350F)-Roast Tri-Tip over Direct Heat 15 minutes each side (close lid of BBQ during Roasting) and turn 3 times until internal temperature reaches safe 145F (total time is 45 minutes). Then return tri-tip to covered pan to rest for another 30 minutes and cool to touch. Slice into 2" x 1" bite sized pieced enough to cover the bread medallions and look lovely and enticing. Set Aside in bowl.
3. Slice bread into ½ inch or slightly thinner bight sized medallions. Set Aside in large bowl.
4. Brush each sliced facing up with olive oil. Set each slide on a flat baking sheet oil side up.
5. Open jar of Roasted Red Peppers and separate and slice the peppers so that you have pieces that are about 1' x ½ to place on each slice of bread when constructing the appetizers. Set aside in a bowl.
6. Pt Reyes Bleu Cheese – using knife crumble or thinly slice the cheese so you may use this as the layer of flavor on the piece. Set aside.
7. Now we begin to construct each piece of the appetizers.
Take on bread medallion that had olive oil brushed on top, add one slice meat, add one red pepper, add crumbled Pt. Reyes Bleu Cheese, pinch of black pepper, pinch of salt if necessary and place it on a plate.
8. Next step is to taste this yourself. If is is not to your liking, then change the order of construction until perfect to YOUR liking. Once you have it finish the job and ready to serve.
9. Remember to always have the Stephen & Walker Petite Sirah Dry Creek Valley Ready To Serve with this lovely dish!! Sante! My Friends – Nancy!